! www.wlshistory.com and The History of WLS Radio!(c) 1998-2001 by Scott Childers/Munchkin Studios ->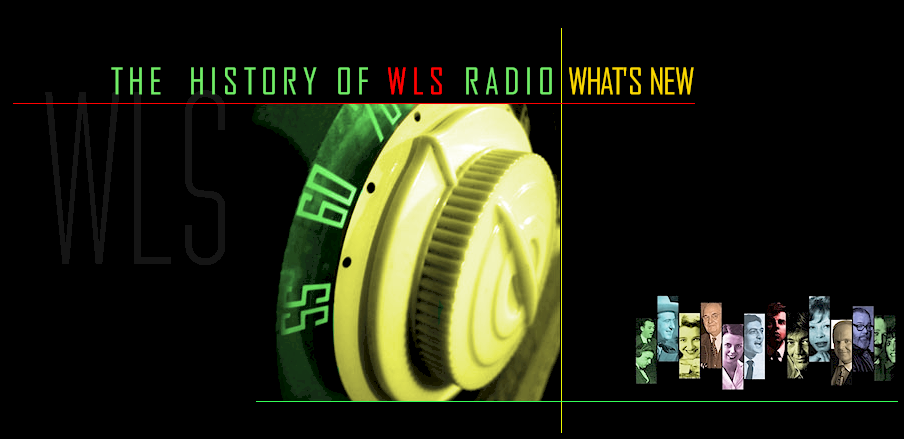 JRL TO GO INTO THE HOF!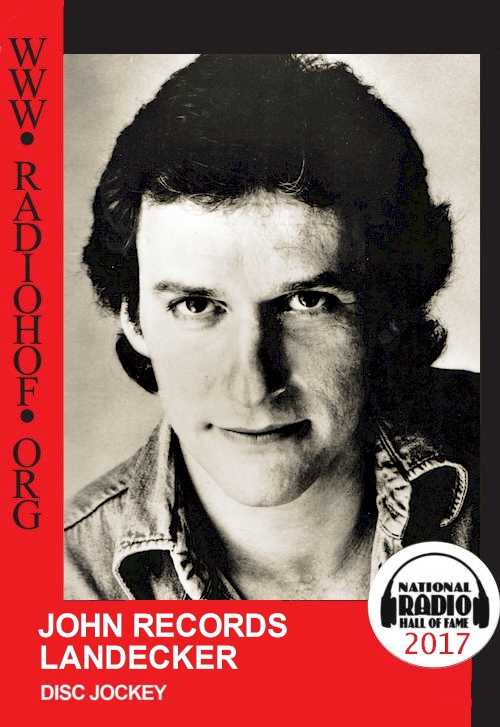 Congratulations to John Records Landecker on his impending induction into the National Radio Hall of Fame!
John will be inducted, alongside eight other radio greats on November 2 at the Museum of Broadcast Communications at 360 North State Street.

More details here
---
THE WLS BIG 89 COUNTDOWN AND MUSICRADIO MONTAGE
The highlight of New Years Eve for many was the year-end WLS Big 89 Countdown. It aired from 1967 through 1986.
Click here for The Big 89 lists.
Click here for the story about the WLS Musicradio Montage and hear it in it's entirity.
Happy New Year from WLSHistory.com!
---

BERNIE ALLEN - 1929-2015
(11-19-2015)
Bernie Allen, a man who held down the midday shift for most of the 1960's, has passed away at age 86.
Bernie was a kind and gentle man, very gracious and also very talented as not only a radio announcer but also as an actor. He was well read,
well spoken and always polite. I enjoyed all of our conversations and took pleasure in showing him around at several broadcast outlets I worked at. ~Scott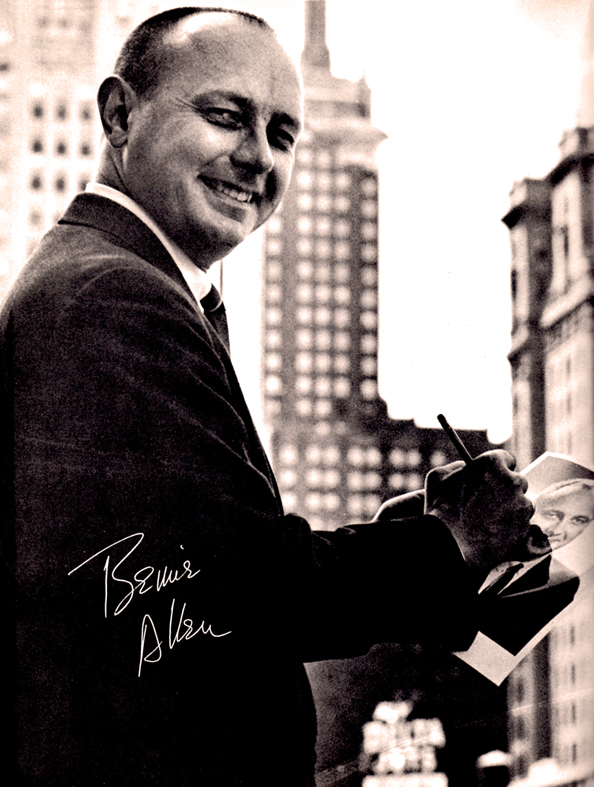 (From Chicagoland Radio and Media)
Born Bernard Hallenberg, he took the simpler, less ethnic-sounding radio name of Bernie Allen. A native Chicagoan, his love for radio began at an early age. He began working in radio while still a high school student.

In the mid-1950's, Allen was spinning the top hits of the day on WIND-AM, moving over to WJJD-AM in the early 1960s. In 1963, Allen joined the rock/pop radio powerhouse WLS-AM as its midday host. By the late 1960s, Allen had been moved to weekends-only. He stayed with WLS-AM through 1971 before moving on to other radio opportunities.

Over the course of the next decade, Allen could be heard on numerous Chicago radio stations, including WCLR-FM, WLAK-FM, and WCFL-AM, before re-joining WJJD-AM in 1983, where he worked for over six more years. Allen also did some fill-in work on local radio stations in the 1990s, including suburban WAIT-AM.

A fun fact about Allen was that long before his radio career, he was a child actor. In the late 1930s, he appeared in some of the "Our Gang" (aka "The Little Rascals") short films.

Allen is survived by two children and two grandchildren.

A memorial service for Allen will be held on December 6th from 12:30pm-2:30pm at Olson Burke/Sullivan Funeral Home & Cremation Center, located at 6471 N. Northwest Highway in Chicago.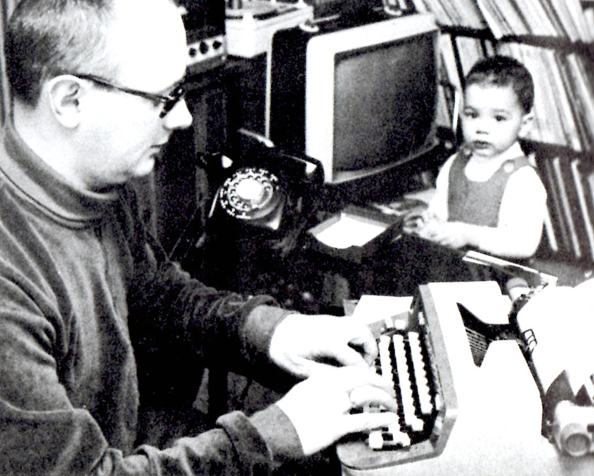 Bernie and his son Chris in 1966.
---
THE ADVENTURES OF PETER FUGITIVE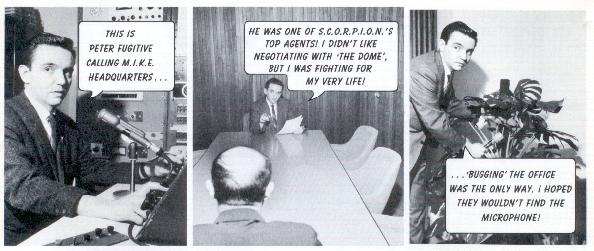 For the first time, WLSHistory.com is proud to feature the iconic series "The Adventures Of Peter Fugitive," which aired during Art Roberts' Friday night show throughout the mid 1960's. Original off-air recordings rediscovered and donated by John Herrbach, we proudly present a full series of the detective feature, produced and voiced by WLS Production Director Ray Van Steen! Click here to relive the adventure!
---
TOMMY EDWARDS RETIRES AFTER AN AMAZING 54 YEARS!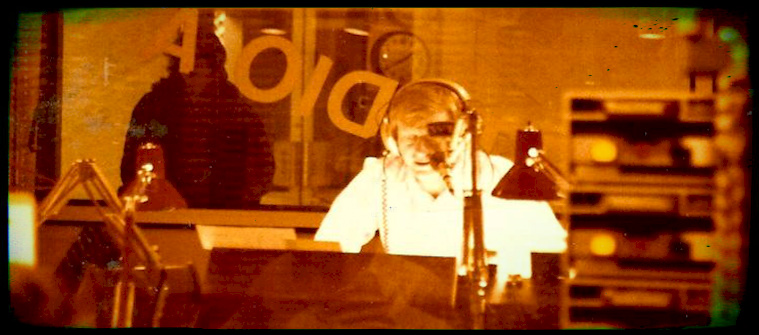 Citing that "it's been a great ride," Tommy Edwards signed off from radio on Friday September 12, 2014. Finishing off his WJMK-FM midday show, Tommy said "OK... After 54 years, time to sign off. I got to tell you, it's been a great ride." Tommy's legendary career started at WTOP in Topeka, Kansas at age 16 and radio eventfully led him him to on-air and radio management jobs in the top three markets, New York, Los Angeles and of course, Chicago (in addition to Boston and Washington D.C.). His most famous stint was at WLS Musicradio from 1972 to 1985, where he spent time as Program Director, Production Director, midday and afternoon talent. He and Larry Lujack created and hosted the wildly famous Animal Stories segments. Even today, a version of Animal Stories still airs as a set of public service announcements for the Illinois Emergency Management agency on radio stations across the state! Following Lujack's death, Tommy began thinking about hanging up the headphones, telling radio columnist/blogger Robert Feder that "Quite frankly, after losing a good friend, it makes you think about what's important in life. My family is real important to me." In addition to his time in Chicago at WLS, Tommy previously worked at WKQX, WILV, WRLL-AM (with Lujack) and twice at WJMK. He will continue his role as the Chicago Bulls public address announcer.

T

Listen to Tommy's final words on September 12, 2014 as
aired on WJMK-FM (Courtesy of Jeremy Andrews)
---
LARRY LUJACK 1940-2013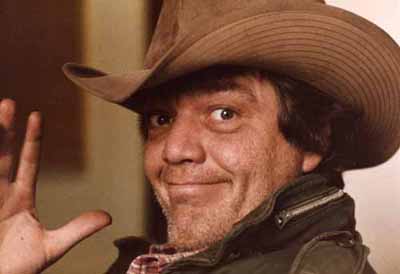 Pioneering WLS air talent Larry Lujack passed away on Wednesday December 18th. He had been suffering for esophageal cancer.
His Chicago career started in 1967 on the all-night show at WCFL-AM (1000). It wasn't long before Larry Lujack crossed the Chicago River and moved down the dial to WLS. He stayed at WLS until 1972 when he returned to Super CFL. After the stations format change in 1976, Larry returned to WLS to host mornings and later afternoons until his retirement in 1987. In addition to having the #1 morning show, Lujack paired with midday host Tommy Edwards for the duo's famous Animal Stories segment, which is etched in the memories of millions of listeners from the 1970s and 80s.
Jan Jeffries, senior vice president corporate/programming for WLS Radio issued the following statement: "The passing of Larry is a loss not only to countless friends across Chicagoland, but to hundreds of thousands of loyal listeners who affectionately referred to him as Uncle Lar'. Larry defined WLS. Bigger than life and legendary. He will be missed as a broadcaster, however, even more as a humanitarian with a heart of gold. Larry would want us to celebrate his life and that is the way will honor his passing. God's speed Larry!"
He is survived by his wife of 41 years Judith Lujack, and two surviving children: Anthony Lujack and Linda Lujack-Shirley.
See our Larry Lujack tribute page here.
---
DON WADE 1941-2013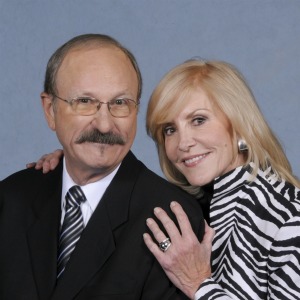 Very sad news as Don Wade has passed away on Friday September 6th.

After 55 years of broadcasting, culminating in 27 legendary years at WLS, only a devastating health blow could have pried that microphone from his hands. With his adoring wife, co-host and co-conspirator at his side, Don waged a mighty year-long battle against the deadly brain tumor which finally silenced him.
Mr. Wade died in Florida, where the couple spent their time since officially retiring from WLS in December, 2012.
He was 72.
More details here.
---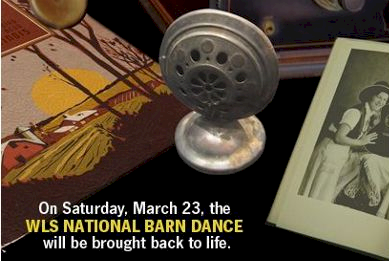 The Museum of Broadcast Communications (MBC) celebrated the 89th anniversary of The National Barn Dance radio show in the actual historic WLS studio on March 23, 2013 at 3pm. The special event featured an afternoon of classic country music, historic reflections and documentary clips from The Hayloft Gang: The Story of the National Barn Dance.Filmmaker Stephen Parry hosted the anniversary celebration that benefitted The National Radio Hall of Fame, which is housed inside the MBC.

In 1924, The National Barn Dance made its debut over WLS Radio/Chicago. The show was the first to blend folk and country music with rural humor. The legendary Gene Autry, Pat Buttram, George Gobel, Andy Williams and Eddie Peabody were all regular members of the shows cast The National Barn Dance rapidly grew in popularity and was the idea behind Nashvilles Grand Ole Opry.

Duke Miglin, current building owner and noted Chicago developer, made the space available for the celebration. The historic studio will soon be transformed into office space.

Celebration attendees received a limited edition poster commemorating the 89th anniversary of The National Barn Dance. The program was inducted into the National Radio Hall of Fame in 2011.

WLS Radio is a promotional sponsor of the celebration. Rubschlager Baking Corporation is an event sponsor and provided light refreshments.

Stephen Parry is the writer/producer of the PBS documentary The Hayloft Gang that chronicles the history of the WLS National Barn Dance. Highlights of the documentary were presented.

Seminar speakers included:

Scott Childers radio personality, author of the book - Chicagos WLS Radio and host of - The History of WLS website.

James F. Evans retired farm broadcaster, educator and author of Prairie Farmer and WLS: The Burridge D. Butler Years.

Paul Tyler musician, folklorist and historian with the Old Town School of Folk Music and author of the lead essay in the book The Hayloft Gang; Tyler will also perform live.

David Wyle historian of The National Barn Dance and early station history and contributor to The Hayloft Gang.

Stephen Parry writer and producer of The Hayloft Gang, will moderate the discussion.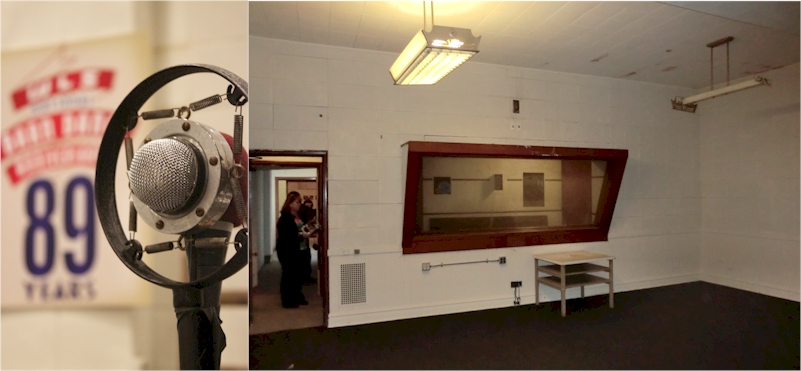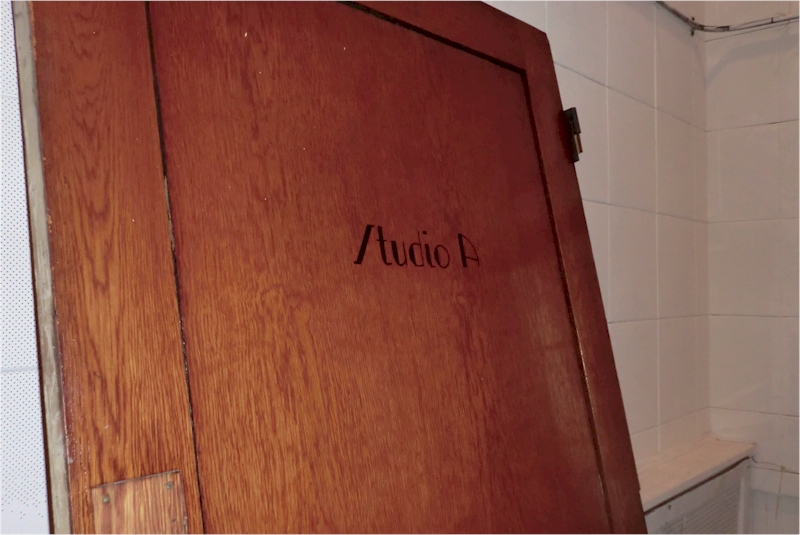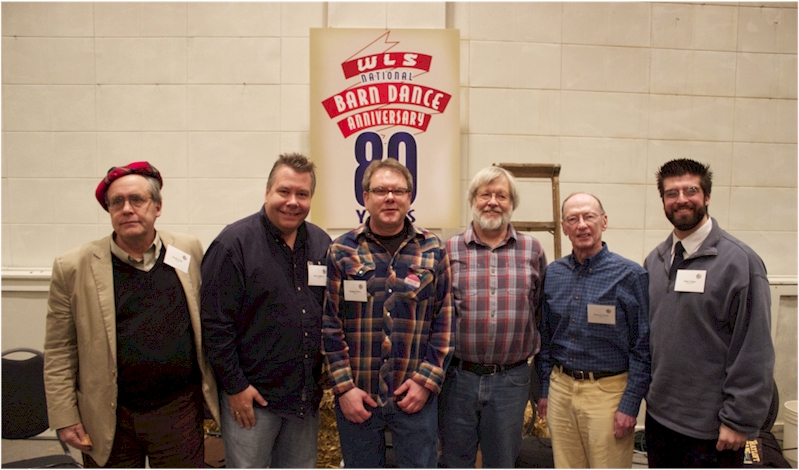 Saturday, March 23, 2013

3:00 pm

1230 West Washington Blvd.

The site of the historic WLS Radio Studio where the National Barn Dance once originated.
---
THE 50th ANNIVERSARY OF ROCK N ROLL! 1960-2010
This Sunday May 2nd, marks the 50th anniversary since WLS flipped to contemporary music. It's when it all started, the "Swingin' Seven," The Silver Dollar Survey and eventually The Big 89 and Rock of Chicago. It all began in 1960. And WLSHistory.com will have a special exhibit celebrating the momentous occasion which will feature sounds and images of the era, comments from the personalities and two brand new special podcasts from two of the original jocks: Bob Hale and Dick Biondi!
Click here to view the feature!
Also, Dick Biondi celebrated the 50th anniversary with a special broadcast on the air in from 7 p.m. to midnight Sunday on both WLS-AM (890) and WLS-FM (94.7)!

---
NOW AVAILABLE!
THE HISTORY OF WLS RADIO - THE BOOK!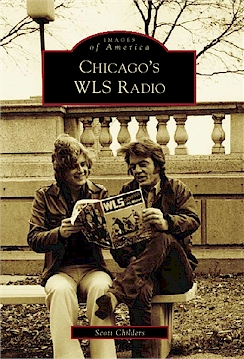 Authored by the creator of the WLSHistory.com website Scott Childers,
this illustrated history of the Big 89 will take you from it's inception by Sears
Roebuck in the 1920's all the way to last year's Big 89 Rewind! With over
200 pictures, CHICAGO'S WLS RADIO will be a must have for any
radio fan! Part of the Images Of America series by Arcadia Press.
Find it at your Chicago area Barnes and Noble and other
retailers that carry the Images of America books.
CLICK HERE FOR INFORMATION ON BOOK SIGNING
EVENTS THAT WILL WILL BE COMING UP!
Here is just a sampling of the wonderful images...

Order now from Amazon.com
Click below to order!
---
June 16, 2008
Welcome back WLS-FM!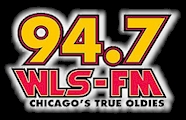 Robert Feder's Chicago Sun-Times column announced the return of WLS-FM.
In a real blast from the past, the fabled call letters of WLS-FM are about to ride the Chicago airwaves again.

Citadel Broadcasting plans to ask the Federal Communications Commission next week to turn WZZN-FM (94.7), the "True Oldies" station, into WLS-FM. If approved, the change is expected to take effect June 26.

The application is considered a formality since Citadel also owns news/talk WLS-AM (890). Mike Fowler, president and general manager of both stations, said the call letter change would be accompanied by a new set of on-air jingles recalling the rock 'n' roll heyday of WLS, along with a new logo. He also hinted at a few other surprises, perhaps involving some stars from the old days. "We're going to develop this into the Top 40 WLS of old," Fowler said. "We want to make it a cohesive package that presents the music in the framework of when it was all new."

The station's local talent lineup already includes two hosts with strong associations to WLS' past. Evening star and Radio Hall of Famer Dick Biondi was part of the station's legendary starting roster in 1960, while morning personality Brant Miller was on from 1977 to 1991. Fowler said WLS-FM would continue to be targeting listeners between the ages of 25 and 54 with Top 40 hits mainly from the years 1964 to 1982. "The goal is to put the excitement back in the music," he added.

The switch coincides with the start of Portable People Meters, Arbitron's electronic audience measurement system. Since the new devices do not require listeners to write down a station's call letters, there'll be no chance of confusion between WLS-AM and WLS-FM.

Under ABC ownership, the 94.7 FM frequency last went by the call letters WLS-FM in 1995. Since then, it's been called WKXK, WXCD and WZZN.
Read more about the history of WLS-FM here.
---
CONGRATULATIONS LARRY LUJACK!
On his induction into the 2008 NAB Hall of Fame
See his acceptance speech
Courtesy of JohnRook.com

---
The Big 89 Rewind - Memorial Day 2007
For one day WLS - returned to The Rock Of Chicago!
(Well, 2 days - as we rewound again on July 4th!)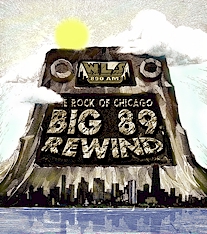 All day Memorial Day, The Big 89 turned back to the days of rock with some very special voices!
The Big 89 Rewind Special
with Jeff Davis
5am-6am
Larry Lujack & Tommy Edwards
6am - 9am
Fred Winston
9am - Noon
Chris Shebel
Noon - 3pm
Jeff Davis
3pm - 6pm
John Records Landecker
6pm - 10pm
"TK" Tom Kent
10pm - Midnight
Also Lyle Dean, Catherine Johns, Linda Marshall, Gil Gross and sports with Les Grobstein!
PICTURES, AUDIO AND VIDEO IS A CLICK AWAY - HERE!
---
December 9, 2006
A hearty congrats to a true living legend and one of the kindest hearts
we'll ever know - Dick Biondi. Now with his new station True Oldies 94.7 FM
(WLS' sister station), Dick once again has made less fortunate children happy this Christmas
by hosting his annual marathon Toy Drive at Yorktown Mall. I caught up with him on
Saturday morning (already 25 hours into the on-air drive) and he had more energy
than I have when I wake up! What an absolute treasure you are Mr. B!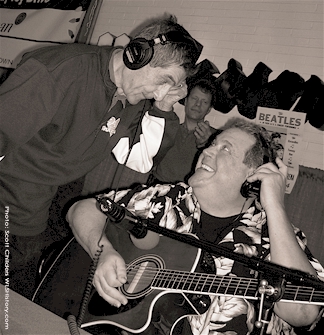 Dick Biondi funning around with Ronnie Rice - 12/09/06
---
8/2004: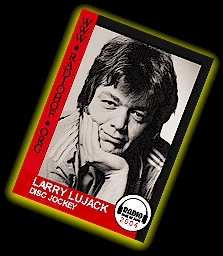 Congrats to "Uncle Lar," Larry Lujack on his induction into the Radio Hall of Fame!
---
THE WLS HISTORY BOOKSHELF
Chicago radio veteran Ron Smith has put together a set of wonderful reference books
based on the WLS Silver Dollar Surveys from 1960-1969
and the WLS Musicradio Surveys from 1970-1979 & 1980-1990.
Click below for more information on it.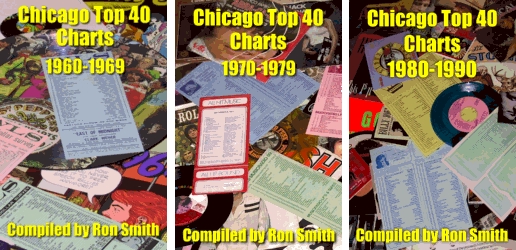 ---
Letters, we get letters! This from the email bag (or bin, if you prefer):
Hey Scott,
Thanks for an excellent WLS web site. I grew up in Arkansas in the 1960s and WLS was like a local station at night. It was fun to hear the inside stories of one of my all-time favorite stations. Sometime in the mid-70s, the WLS nighttime signal pretty much disappeared. Although I don't know the details, I was told that they changed transmitter sites again and the ABC engineering department blew it. I don't know any details but was wondering about the explanation. I do know that WLS was still a shadow of its former self, signal-wise, the last time I checked. Thanks again for a great site!
-H.W. Duncan
We put former WLS Engineer and technical wizard Marty Soehrman on the case, and here's his reply:
I was working for WLS during the time period to which you refer. WLS has maintained the same transmitter site for more than 50 years. That doesn't mean that they didn't TRY to move it. The WLS transmitter site is a pretty "fer piece" from the studio [located at US Route 45-LaGrange Road and I-80 in Tinley Park]. Off-air reception of WLS at the down-town studio site has always been difficult and more importantly, reception in the offices of down-town advertising agencies (where the money came from) has always been difficult and not as good as the other 50KW AM's. So, they found a couple of sites in the Addison, IL area. They were not as good as the rural (at the time) Tinley Park site and national coverage could have suffered as a result. But, they didn't care about 38 states because the sales department didn't consider it "saleable". (There were a few exceptions to this over the years who bought massive overnight coverage for their commercials dirt cheap) They DID blow the move, however (which was as far as I was concerned, a good thing) because of zoning problems and ABC's unwillingness to play the political games required to "earn" favorable considerations from the city fathers. ABC engineering types never proposed moving the site, but it was the sales department that wanted it. In fact, the current site was not chosen for engineering reasons, but because the station owner at the time [1938] and Prairie Farmer publisher, Burridge Butler, was bickering with Cook County officials. The site was chosen to be as close as they could get to Chicago, but be OUT of Cook county. It just happened that this was favorable to coverage of downstate Illinois which, I suppose, further lent itself to being a "farm station." None of this is to say that you are imagining things with regard to your WLS reception, but I am not sure that anybody really can fully explain this. It probably has something to do with ground conductivity at the transmitter site and surrounding area. The ground system at he transmitter site has been upgraded over the years and I suspect it is in pretty good shape today. I do know that I have observed lower signal areas in the immediate Chicago area too (although I do not live there now and haven't made my own observation for a long time). Also, keep in mind that the status of the class 1-A clear channel has been downgraded considerably, although that didn't start in the 70's, I don't think. There are now several stations in the US and Canada on 890 (and other frequencies) at night where WLS used to be by itself. A little interference can degrade reception in a major way.
- Martin Soehrman, Portland, Oregon
---
1/29/02 This note from WLS Technical Producer Michael Garay:

Regarding the Silver Dollar Survey. I do know this was a hot topic a while back. So the answer is... The survey got it's "Silver Dollar" name from the fact that George Washington threw a silver dollar across the Patomac River, and that it landed on the other side. This comes from the 16th anniversary issue of the survey, published on October 9, 1976. .
---
9/1/01 Read Larry Shannon's wonderful essay, "A Tribute to WLS."
---
1/29/01 By request! Fred Winston's Chili Recipe.
The WLS Schedule from 1960-1990.


1999-2015, Scott Childers and Munchkin Studios.