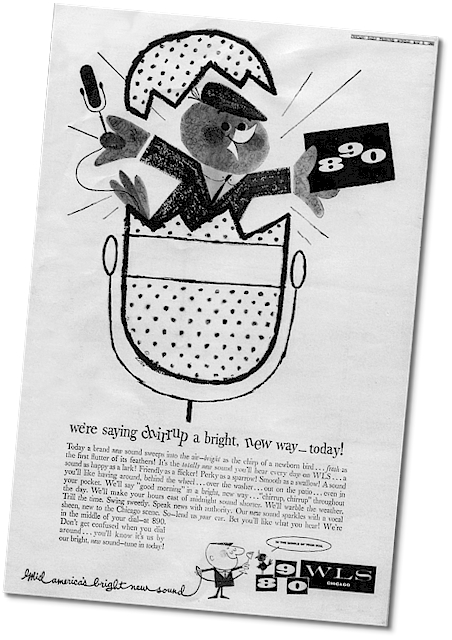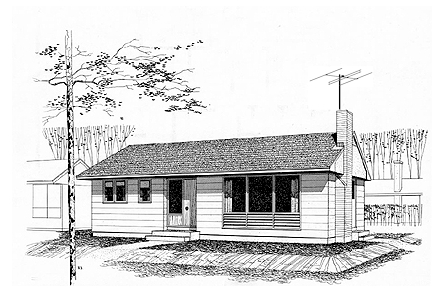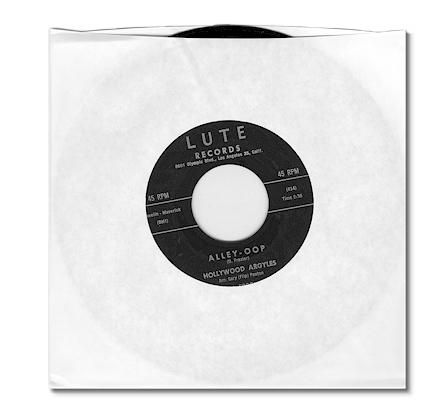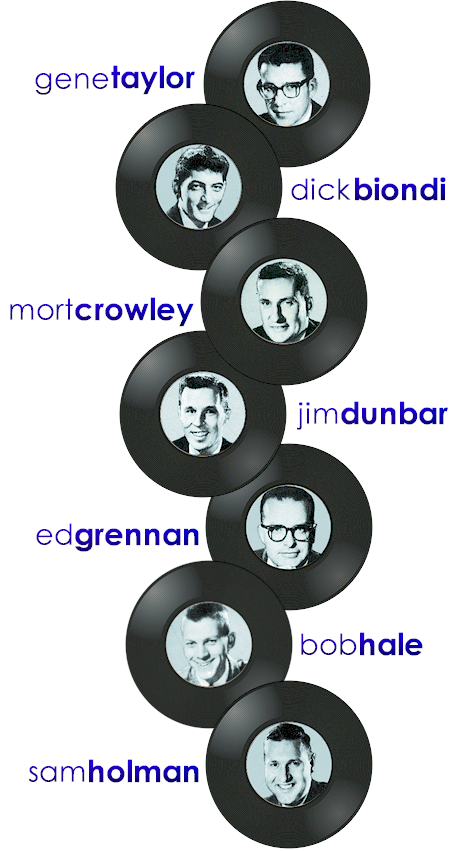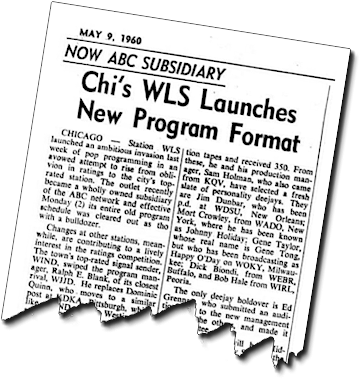 May 2, 1960 . It was the day that changed Chicago radio forever. That Monday morning, the Midwest awoke to the farm report that aired as it had for the last 36 years. But today, the wheels were already in motion, the changes were already in place. One half-hour later, the melody of the Anita Kerr singers would proclaim "...the bright, new swingin' sound of 8-9-0 Chicago - WLS!," followed immediately by The Hollywood Argyles' "Alley Oop" and a new morning voice, Jim Dunbar. History was made that morning at 1230 West Washington Street . The way had been paved for the future...

The

Big City had finally come to WLS Radio.

Radio had become radically different in 1960 than it was in the earlier years. The "Golden Age" was over. Television had replaced radio as the medium of choice in the evening. Old radio shows and live music had either transferred to TV or simply withered and died. Chicago 's post-war suburban sprawl of Mount Prospect, LaGrange Park and Park Forest, among others sported antennas (or as they were called then "aerials") on those new single family ranches on winding cul-de-sacs. Radio knew it had to change, or be left in the dust. Farm programming was offered less and less airtime, in favor of local news, weather and recorded music known as DJ shows

By the 1950's, Paramount Theatres owned half of the broadcast day on the 890 kHz channel, utilizing the station WENR. NBC's old Blue Network, now known as the American Broadcasting Company eventually purchased Paramount and took control of WENR. In 1953, WLS and WENR merged to become WLS full-time. At the same time, the Prairie Farmer's WLS had begun to decline in popularity. Chicago had become much more cosmopolitan and the daily schedule of farm, religious and western music had become less popular. And albeit a long run, the Barn Dance was losing ground as well.

In 1959, ABC realized that something had to be done. Contemporary programming had already begun to flourish at company-owned KQV-AM (1410) in Pittsburgh and was soon to do so in New York on WABC-AM (770). They were hot to get their hands on the 50,000 watt 890 frequency full-time and The Prairie Farmer Company was looking to sell. Stock options, owned by Prairie Farmer employees were swapped for ABC stock. The transaction was completed and the stage was set. General Manager Ralph Beaudin and Program Director Sam Holman were brought in from KQV to change the Prairie Farmer into a rock 'n roller!

Contemporary music in Chicago was only programmed as generally a nighttime feature on stations like WIND (560), WGN (720) and WJJD (1160). Many stations felt that the format was just a fad and could not support itself. Beaudin, Holman and ABC were out to change those perceptions. After the format change, WLS would remain virtually unchallenged for nearly five years until WCFL dropped its labor and brokered intensive programming for hit music in 1965.

The original seven personalities were brought in from all across the country. Jim Dunbar from Washington State for mornings; Ed Grennan, a holdover from the Prairie Farmer days in middays; Mort Crowley from New York City did early afternoons; Gene Taylor from Milwaukee worked evenings, Bob Hale came up from Peoria to handle "East of Midnight" and a raucous young hipster was brought in for the important nighttime shift from Buffalo, Dick Biondi. Sam Holman also held down an airshift in the late afternoons.

The first day on the air, WLS scored a major news scoop. That was the day that the WGN Radio traffic helicopter crashed, killing reporter Len Baldy. Harvey Wittenberg, a newswriter and reporter at the station remembers that they had it on the air right away. "We had the story verified and ready to go, thanks to our news staff and Vic Petrulis, who was our traffic reporter and a Chicago police officer. The story went on to be the News Tip of the Week." Bob Hale got the news before his first airshift.

Despite a heady start, WLS had a tough go of it at first. Long-time listeners complained because Prairie Farmer programming was gone, a lack of station promotion at first prompted the jocks to quip that two-way radios in Chicago taxis had more listeners. WLS, which was originally located in building at 1230 W. Washington Boulevard, also housed the Prairie Farmer Magazine. The neighborhood had fallen on hard times and was only a block away from Madison Street, which in the 1950's and '60's was known as "skid row." In the building, when big heavy palettes of paper were dropped on the floor in the basement printing plant, the vibration shook the building and made the records on-the-air actually skip! (The station moved to 360 N. Michigan Avenue by 1961). WLS was also saddled with a great deal of news and required ABC network programming like Don McNeill's Breakfast Club, which didn't fit in well with the latest offerings from The Everly Brothers. Stiff competition from WGN and WIND kept WLS from making it up to #1 (they stalled at #3 for some time), yet Beaudin had a vision of making his new station a success.

Yet as the years went by, WLS' popularity began to snowball and was not handily passed up for some 26 years after the format switch. All told, contemporary music held together until 1989's switch to talk, a full six years later than Top 40 posterchild WABC (which bailed out to FM competition in New York in 1982). The original WLS jocks, many of whom were only in their twenties in 1960, went on to become legends and inspired legions of new personalities such as Larry Lujack, Bob Sirott, John Records Landecker, Steve King and others (who went on to inspire many of those you hear on the radio today).



May 2, 1960. Radio truly did change that day.