Scott,
I thought I'd share with you this picture of WLS AM Radio "live" in 1938.  The drummer (my uncle) – Fredrick Roland Kuhmann, the trumpet player – Wilbur John Kuhmann (my Dad).  They played with silver screen cowboy star, Gene Autry during his 4-year stint at WLS
My sister Jane gave me some old hand-written notes with a few names.  As a kid, I used to dress up as a cowboy all the time (hell, I STILL wear boots – no kidding, and always have).  We feel like Dad and his brother played a part in US Radio history… and fact is – THEY DID!  We used to own a 1920's vintage hand-made guitar that Gene Autry gave to Dad – I've been trying to track it down (I think one of my cousins has it).  I wonder how many people are still alive who remember those "Cowboy Radio" days?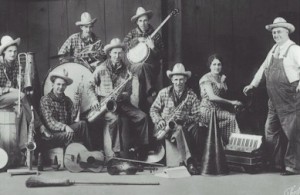 LEFT : Trombone & Alto Sax (?), Trumpet & Guitar (Wilbur John Kuhmann), Drums (Fredrick Roland Kuhmann), Tenor Sax & Violin (?), Banjo (?), Tenor Sax & Guitar (?), Piano & Accordion (June Winder), standing (Tom Owens).  WLS Radio, Chicago 1938 – Note the two megaphones.
June Winder, piano (from Sheridan, Illinois) started this band along with two of her sons.  The original band was called, "The Glenn Victorians."  Tom Owens took them to radio where they were known as the "Corn Huskers" (thus, the brooms).
Dad and brother Fred later joined with "Falletti's Band" and played the dance ballroom circuit across the Midwest.   Falletti was the Uncle of an Organist, Mr. Larry Baudino – who became Dad's best (and life-long) friend over the years.  Larry, Wilbur, and Fred then formed the "Larry Baudino Trio."  They frequently played at the Geneva Hotel (Architect Frank Lloyd Wright designed that building), in Lake Geneva, Wisconsin – until the hotel was torn down and the band members retired.  Dad died in 1975 and Fred in 1979.
P.S. The photo was from postcards in the possession of my Aunt Eileen Briggs-Kuhmann, of Yorkville, Illinois.
Thank you much and enjoy!
-Robert C. Kuhmann
Delavan, Wisconsin
Thank you Bob for providing us with a great slice of WLS History right from your own family's history!   -Scott