Scott:
This will sound like a funny question, but do you know where that picture of the WLS Magic Bus was taken?
At the resolution it's scanned at, it's hard to tell, but there's a kid in that picture who looks a lot like I did back then, and although it's been a while since I've been there, it reminds me an awful lot of the north parking lot at Mitchell Park in Deerfield, where the Magic Bus often used to visit on its trips up to Deerfield… I don't suppose you've got a higher-resolution scan of that picture available, do you?
Great site, by the way. Once upon a time, I used to spend countless hours at the 5th floor window of the Stone Container Building just watching the jocks do their thing. WLS was my inspiration to get into the radio business… I've been "in the biz" for 22 years now!
– Jeff Axelrod
Los Angeles, California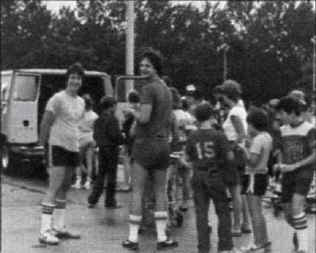 Hey Jeff, Unfortunately that is the only copy that I have of that picture, but you never know – it could be you! Just like you, I spent many a summer following around the Magic Bus and hanging out on the 5th floor as well. I have been in the radio biz since 1988! -Scott