Chicago broadcast legend Ed Grennan passed away Tuesday August 22nd. Mr. Grennan started his radio career in 1944 with the Armed Forces radio Network while in Guam. After some stints downstate and in Michigan, he returned to Chicago to work at several stations including WGN, WAIT and WBBM-FM.. In 1959, Mr. Grennan went on to work at the Prairie Farmer WLS as an announcer. He became one of the original seven personalities that transformed WLS into a contemporary music powerhouse. Ed stayed with the new format for only six months and later admitted that he felt that he "didn't fit in" with the new sound.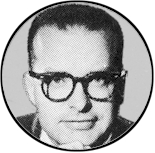 After leaving WLS, he bounced around several Chicago stations before finding a home at WMAQ. In addition to being a staff announcer on WMAQ Radio, Ed hosted the shows "Today In Chicago" and "It's Academic" on WMAQ-TV, Channel 5. Mr. Grennan won an Emmy for football announcing and "It's Academic," which aired for eleven years. Along with Jim Hill, he was one of the best known staff announcers on WMAQ Radio and TV for over 25 years.
He retired in 1991 and continued to call Chicagoland his home. Mr. Grennan passed away after suffering a heart attack while swimming in Oak Park. He was 78.