! www.scottchilders.com and The Chicago Radio Time Capsule (c) 1998-2000 by Scott Childers/Munchkin Studios ->

Leonard Baldy, a Chicago Police officer is widely credited with being the
first helicopter traffic reporter, airing daily on WGN Radio (720) beginning in 1958.

In addition to his airborne reports, Baldy would regularly report from the WGN studios. One of
his programs was called "Signal Ten," which covered topics of traffic and vehicular safety.

His visibility increased when he reported overhead during the "Our Lady of Angels" fire in December 1958.
In addition to providing on-air updates, Baldy communicated with police and fire units,
giving them a birds eye view to provide the quickest route to and from the fire scene.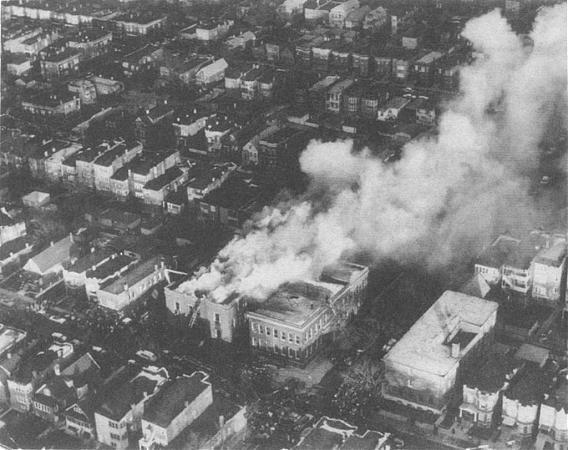 Officer Baldy's view of the Our Lady Of Angels fire in 1958.
"Signal 10, begun in February, 1958, dealt with the staggering national
problem of highway safety. The 1960 Sloan Award was given to WGN
with a tribute to it's award winning "Trafficopter" broadcasts, a feature
begun in 1958 with Flying Officer Lenard Baldy, who met death in the
line of duty two years later."
- from: WGN, A Pictorial History

WGN traffic reporter Officer Leonard Baldy.

WGN Radio Police "Trafficopter."

According to Len's son Tim, "He was elected to the National
Police Hall of Fame, as well as the Chicago Police Hall of Fame
and had his badge number retired."




Len Baldy with his wife Peggy (right).


Tragically, Len's helicopter crashed on the afternoon of May 2, 1960. The helicopter rotor blade disintegrated while he was reporting on Chicago's near west side, in a railroad yard near Milwaukee Avenue and Hubbard Street.

In 2017, he will be honored with a "Walk of Fame" plaque outside Tribune Tower.

WLS' Bob Hale remembers that day, as he was about to make his debut
as a personality on the "new" WLS.

Photos courtesy of Tim Baldy and Gary Olszewski

Find Tim Baldy's biography on his father, entitled "Chicago's Finest" here


© 1999-2017, Scott Childers and Munchkin Studios