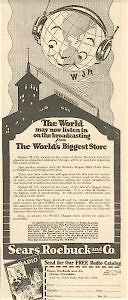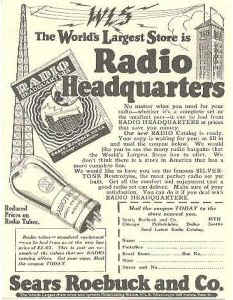 The early 1920's. Birth of commercial radio as we know it today. KDKA in Pittsburg is recognized as being the first broadcast outlet , having given the election returns of the Harding-Cox presidential race in 1920. 1921 brought WJZ New York to the air with music and entertainment.
In the Midwest, Sears-Roebuck and Company had flirted with the new medium by buying time on radio stations to address and target the lucrative farming market. By the winter of 1923, it was apparent to Sears that they needed their own broadcast outlet to continue their relationship with the farmers. As a result, the company started the Sears-Roebuck Agricultural Foundation, designed to be a clearinghouse for information and assistance through its Farm and Home Service Departments. Midwest farmers had been particularly hard hit with the deflation of 1920-21. Sears president Julius Rosenwald approved a plan to construct their own radio station. While transmitting and studio equipment was being completed for the new station, Sears was anxious to get on the air. For three weeks, the foundation bought airtime for a noontime farm program beginning on March 21, 1924, with its first assigned call letters WBBX, from the studios of WMAQ Radio.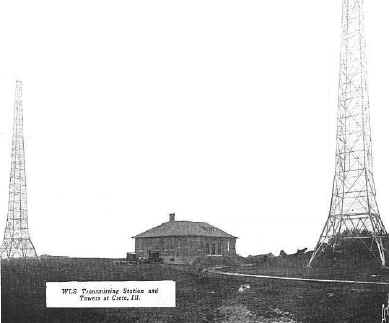 Located approximately 30 miles south of downtown Chicago,
this served as the WLS transmitter site from 1924 to 1938.

On April 9, 1924 Sears signed on 500 watt WES (for World's Economy Store) from it's own studios in Chicago, Illinois. The small studio was located next to the Agricultural Foundation offices on the 11th floor of the 14 story Sears-Roebuck tower. The company's drafting room served as a control room, sending the signal to the transmitter site, located in Crete. The initial night of testing featured singer Grace Wilson and the musical comedy team of Big Ford and Little Glenn. Ford Rush was actually the first employee of the new Sears station, and was also it's first announcer. Glenn Rowell soon became Studio Director and also headed up the station's music department. Over the next two evenings (April 10 & 11) Sears aired more test programs. The Sears switchboards reportedly "lit up like Christmas trees" with listeners checking in after hearing the broadcasts.
| | | |
| --- | --- | --- |
| Sam Guard and Edgar Bill apply the finishing touches, hours before the inaugural WLS broadcast. | Grace Wilson, known as "The Girl With A Million Friends." | Ford And Glenn performing on the first broadcast. |
After several days of experimental transmissions, the station officially went on-the-air on April 12th. On the evening of formal dedication, Sears changed the calls to WLS Radio. The call letters stood for World's Largest Store, a name the giant retailer and catalogue merchant had gained from their West Side Headquarters on Homan Avenue.
"As I remember, the call letters "WLS,"
were not definitely selected until
that afternoon (of April 12th).
Much consideration had been given
to other call letters, among them,
WBBX, WJR and WES."

-George C. Biggar
Farm and Market Director,
later Program Director of WLS
On that first official night, numerous officials and luminaries attended a gala banquet from it's new main studio site on the second floor in the Sherman House Hotel. Many executives from Sears were on hand for the big night including Edgar Bill, director and program manager of the new station and Samuel R. Guard, director of the Sears Roebuck Agricultural Foundation. Shortly after 6:00 pm, Bill stepped up to the microphone and exclaimed "Hear ye, hear ye, hear ye! WLS, The Sears Roebuck Station is on the air!"
The Star Spangled Banner was then sung by James E. Phillips. Notable speakers on hand included Chicago Mayor William E. Dever, Jane Addams of the Hull House; H.W. Mumford of the Illinois College of Agriculture and E.T. Meredith, former US Secretary of Agriculture among others from Sears-Roebuck, the Sherman House and WLS' Samuel Guard. Grace Wilson then sang "At The End Of The Sunset Trail" in addition to a new song by station organist Ralph Waldo Emerson.
Several other addresses aired via a wire hookup from WEAF in New York. A long list of singers and entertainers followed, including Ford and Glenn. By 11 O'clock, many other celebrities arrived following their performances at local theatres. Then, renowned dramatic actress Ethel Barrymore was introduced to speak. However, upon seeing the new-fangled microphone, she froze up. Rather than reading from her manuscript, she began to tremble and exclaimed "Turn that damned thing off!" The Duncan Sisters, Topay and Eva, were quickly brought on to sing. Movie cowboy hero William S. Hart recited a powerful rendition of "Invictus" with his eyes shut, fists clenched and perspiration pouring down his face! According to Edgar Bill, "It was a grand opening, never to be forgotten by those in attendance."

---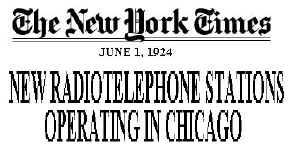 Several changes have been made in Chicago broadcasting stations. Station WLS is the Sears-Roebuck Agricultural Foundation. The call letters, WLS, have been substituted for the earlier ones by the government because of regulations recently passed concerning stations of this type. The wave length has also been changed from 448 meters to 345 meters. A train whistle has been adopted as the signal opening a program and signing off."
---
Originally, the Sears station was licensed to south suburban Crete. This was the dawning era of radio and Sears knew they could get in on the ground floor by not only selling radios, but providing programming and farm service as well. As stated in the 1925 Sears Catalogue, "WLS was conceived in your interests, is operated in your behalf and is dedicated to your service. It is your station." Broadcasting several hours a day, the station's slogan becomes "Bringing The World To The Farm." According to accounts, in little more than four years, WLS went from being an obscure signal to a Midwestern powerhouse. It was even rumored to be heard as far away as New Zealand! The station aired speeches from President Calvin Coolidge, Ralph Stockton's sermons, the comedy of Pie Plant Pete and the wit of Will Rogers. WLS hosted a 1925 Military Tournament as well as Chicago's reception of Colonel Charles Lindbergh.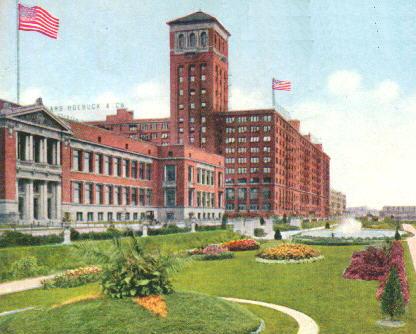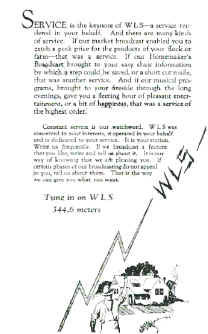 (L-R): WLS was originally housed in the Sears-Roebuck headquarters on Homan Avenue;
Service to the farmer was very important in the early days. (click to enlarge)
While the main focus was farm and civic programming, several popular-music, comedies and radio serials could be heard as well. Nearly 60 different bands called WLS home, while over 130 musical acts aired on the station for free. Many early programs were developed with the help of the Chicago Herald & Examiner newspaper, which cooperated in the building of shows. Many hours of "highbrow" music was featured during weekday evenings on WLS. Saturday nights, however, had a different feel.
On April 19th, 1924 the station aired the first National Barn Dance program, a four-hour cavalcade of music, comedy and down-home entertainment. Station management thought that Saturday evenings should have a decidedly rural feel, so they gathered up an aggregation of old-time fiddlers and singers with well known songs from the past. Sears brass were initially horrified by the strains of "Turkey In The Straw" coming over their station, but the listeners loved it! The program went on to become one of the most popular and longest running country-and-western shows in history, second only to The Grand Old Opry. By 1932, the National Barn Dance program would be cut to two hours and broadcast live, originating from the Eighth Street Theater in the South Loop.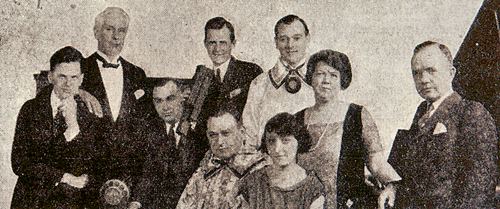 WLS Staff in 1925 (Standing L-R) E. Warren K. Howe (Opera), George D. Hay (Chief Announcer),
Ford Rush, Grace Viall Gray (Homemakers), Edgar Bill (Director). (Seated L-R) Anthony Wons (Drama),
George Biggar (Farm and Markets), Martha Meier (Pianist and vocalist)
On March 19, 1927, WLS made history by being the first radio station to broadcast Beethoven's entire 9th Symphony, which a station publication at the time called "...the only complete performance of the work ever given on the air in the U.S.". After a frequency shuffle in 1928, WLS changed from 3/7 to 5/7 time at 870 kHz. A court order permitted WENR, known as "The Voice of Service in Chicago" to share equal on-air time with WLS. The E.N. Rauland station signed on back in March, 1925. The two stations would squabble back and forth for the next 26 years.