REX ALLEN
Rex became a regular on WLS for several years following the war, both on the NBD and the morning "Smile-A-While" show. Hailing from Arizona, Rex was a genuine cowboy and his boyish looks made him a Barn Dance favorite. He also appeared daily on the Smile-A-While show that aired every morning. In the 1950's, he went on to make movies and gained the moniker "King of the Cowboys." One of Rex's biggest hits was "Don't Go Near The Indians."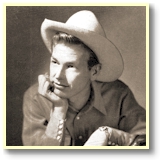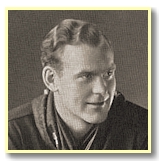 ARKIE, THE ARKANSAS WOODCHOPPER
Hailing from Missouri, Luther Ossenbrink arrived at WLS in 1929. A friendly demeanor and a wide range of musical skills were his strong points. He was known for having a somewhat raspy voice and was often good-naturedly heckled for singing off key. Always ready to break out in laughter, the boys in the Maple City Four were famous for trying to derail Arkie during a song by acting like pigs, crawling around the stage on their hands and knees. His singing would then give way to uproarious belly laughs. Some of the girls would also try to "fix Arkie" by removing his boots and tickling his feet. Arkie became one of the most popular performers on the NBD.
BOB ATCHER
Born in Kentucky and raised in North Dakota, Bob starred on the Barn Dance as a singer during the 1950's. He came to WLS with over 300 recordings under his belt. And his belt matched his penchant for ornate shirts - some costing upwards of $250 apiece! He also sported an expensive palomino and a handmade silver mounted saddle. Bob often shared the stage with his wife Marguerite. He went on to become "Mayor Atcher," as the village president of Schaumburg, Illinois (a major Chicago suburb, northwest of O'Hare) from 1959 to 1975. The Schaumburg Municipal Center and one of the village's parks is named after him as well.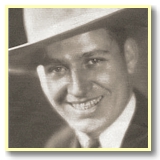 GENE AUTRY
He was know 'round the world as the "Singing Cowboy." Autry began on WLS in 1930 as the Oklahoma Yodeling Cowboy. His song "Silver Haired Daddy Of Mine" consistently ranked as a favorite of the Barn Dance audience. Oddly enough, in the early days, Autry was employed by Sears and the American Record Corporation, rather than by WLS. In 1935, the station would hire Autry for $35 a week. A few short years later when he was America's number one cowboy, that fee would jump to $1500 plus expenses!
THE BUCCANEERS
The Buccaneers featured Tom Fouts aka "Captain Stubby" as their group leader (left center). Captain Stubby and the Buccaneers first performed the original "Roto-Rooter" jingle on WLS in the early 1950s, and the recorded version became one of the longest-running tunes in the history of advertising. The quartet outlived the National Barn Dance's WLS broadcasts by taking the show over to WGN Radio after ABC's switch to Rock and Roll in 1960. However, Captain Stubby stayed on as a co-host of the WLS Farm Special show, as well as writing and performing for Don McNeill's "Breakfast Club" in the late 1960s and early 70's.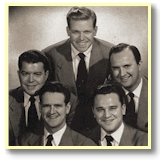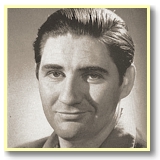 PAT BUTTRAM
Originally from Winston County, Alabama, Pat Buttram joined WLS and the National Barn Dance in 1934. His dry wit and humor would allow him to spin all sorts of stories about his kin folk from down south. One of his self-appointed duties was to step on stage, snap his suspenders and announce to the audience that "...you can dance in the aisles and tear up the place if you want to - it don't belong to us!" By 1942 he left WLS to make movies and later appeared on TV with former NBD singer Gene Autry. When Autry retired in the 50's, Buttram continued on as a nightclub act as well as acting in both movies and TV. Many will remember Pat for his role as "Mr. Haney" on the 60's sit-com Green Acres.
HENRY BURR
Henry Burr, who was known as "The Dean of Ballad Singers" joined WLS in late 1934. He made phonograph records when they were recorded on little wax cylinders. When he joined the NBD, it was reputed that he had made more records that any other living man. He sold millions of records which was quite something back in those days. Burr once toured the country giving concerts with his own troop, "Eight Popular Victor Artists." His rendition of "Goodnight Little Girl Goodnight" sold over 3,000,000 copies And his recording of "Old Gray Bonnet" sold almost as many. He passed away of cancer in 1941.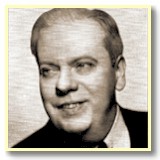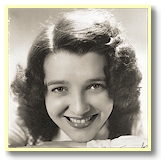 JENNY LOU CARSON
Born in Decatur as Lucille Overstake, she first appeared on WLS in 1932 with her two sisters as the "Three Little Maids." In addition to appearing on the NBD, the Maids performed at the Chicago World's Fair. When the group disbanded, she briefly joined the trio of "Winnie, Lou and Sally" (oddly enough W.L.S!) She then changed her name to Jenny Lou Carson. In addition to appearing on the NBD, she also was a regular on the Smile-A-While show. Jenny began writing songs and during World War II wrote popular songs about soldier boys and home. She was also known as the "Radio Chin-Up Girl" and received plenty of letters from WWII servicemen and their families. In the mid 40's. She signed with Decca Records and later with RCA Victor. Some of her biggest hits were "Jealous Heart" and "You Two-Timed Me One Time Too Often," both for Tex Ritter and "Let Me Go, Lover" recorded by another WLS alum, Patti Page.
CUMBERLAND RIDGE RUNNERS
The Ridge Runners consisted of six members, Karl Davis, Red Foley, John Lair, Slim Miller, Linda Parker, and Hartford Taylor. Performing mainly in the 1930's, they were billed as the first authentic southern playing-singing act on the Barn Dance and WLS. Karl Davis also appeared with Harty Taylor as the duo "Karl and Harty." He stayed with WLS long after the switch to rock as a record turner.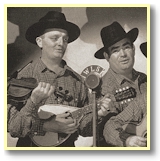 THE DeZURIK SISTERS
Mary Jane and Carolyn DeZurik, inspired by their family and the sounds of the animals and birds around them, developed an astonishing repertoire of high, haunting yodels and yips that soon had them winning talent contests all over central Minnesota. In 1936, George Ferguson of the WLS Artist's Bureau asked them to appear on the NBD after hearing them perform at a county fair. They became instant hits at WLS and stayed on for nearly a decade. Both sisters married musicians they had met at WLS, Carolyn to Rusty Gill, a singer and guitar player in the Prairie Ramblers, and Mary Jane to WLS Ranger accordionist Augie Klein. In 1947, when Mary Jane retired, sister Lorraine was recruited, and the new DeZurik Sisters returned to WLS for about 5 years.

RED FOLEY
The son of a fiddler, Clyde Julian Foley was discovered at Georgetown University by a WLS talent scout. He first appeared on the National Barn Dance as "Burrhead," a member of the Cumberland Ridgerunners. In 1937 he left for a stint on NBC's "Avalon Time." Foley returned to WLS during the war years. Between 1944-59, Foley charted 41 solo country entries of which 38 were Top 10 hits. Six went to the top, including his 1950, million-selling "Chattanoogie Shoe Shine Boy," which also topped the pop charts.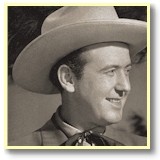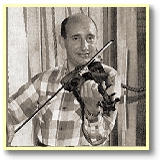 JOHNNY FRIGO
Johnny began taking violin lessons at the age of seven while in elementary school on the south side of Chicago. His violin playing led him to several area stations including KYW and WGN. After World War II, Johnny hit the road as Jimmy Dorsey's bassist and played with Chico Marx. Despite his significant reputation as a jazz bass player and violinist, he immediately mastered country fiddling when a job opened up at WLS in 1948. Johnny played country fiddle on the National Barn Dance with his group The Sage Riders, as well as a part of the Chore Boys. After WLS, Johnny has gone on to become one of the world's leading jazz violinists.
GEORGIE GOEBEL
A native Chicagoan, Georgie became a regular in 1933 at the tender age of 13 when his mother would bring him down to the theatre for his performances. He enjoyed singing cowboy ballads while wearing a ten gallon hat and strumming a ukulele, which was not a union instrument - so he avoided the dues! By the 1940's he had his own touring troupe - "Georgie Goebel's Barn Dance Band." He also was a 1st lieutenant in the Army Air Corps during WWII and went on to become a successful comedian and dropped the "e" to become Gobel.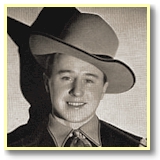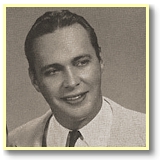 DOLPH HEWITT
Hailing from Pennsylvania, Dolph Hewitt was not only a singer but also a yodeler. He joined WLS and the National barn Dance after being discharged from the Marines after World War II. Press releases touted that Hewitt's robust strains were self taught while he cleared timber as a young man, and that he has actually rivaled singing canaries and has sung with them! His performances were also featured on the Smile-A-While show.
C O N T I N U E
©1999-2007, Scott Childers and Munchkin Studios